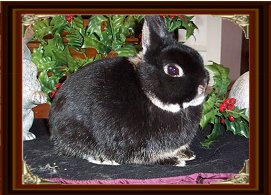 This beautiful ,typey black otter buck is Cole. He is producing beautiful babies and is a real love...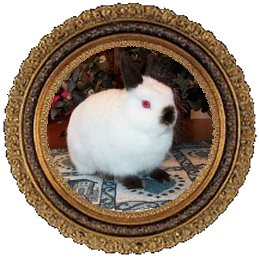 This young buck is Lindenwoods Danny Boy. He has just started his show career. GCH. CCR's Roca X Lindenwoods Moonshadow.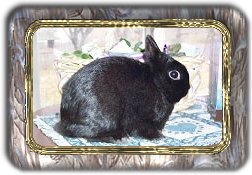 This little rabbit is a homebred Champion. GCH Lindenwood's Mica. Fantastics Sir Choca x Coles Millineum. He finished quickly as a young boy.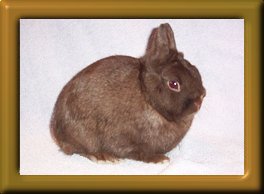 This is GCH Fantastics North Starr. He has been shown on a limited basis. Was 2nd in the Jr.Choc class this spring at ANDRC Nationals 2002. North Starr now has 6 legs and is back home living with Bertha. He was BOSV Sr. Choc. Buck at ARBA Nationals 2003 with Bert.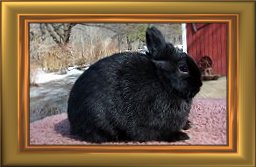 GCH Lindenwoods Rocket. First time out and BOSV in Open from the Jr. class. Rocket now has 5 legs and is living with Bertha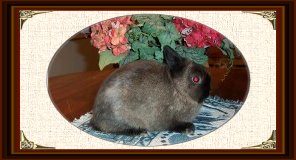 This is a small, typey little Jr. Siamese Sable doe that has not been started with her show career as yet. Megan is excited to put her on the table.. Her name is Lindenwoods Misty... GCH. CCR's Roca x Fantastic Shadow Dancer.
Lindenwoods Piper. This little doe went BOV from the SR. class first time out shown in Open. Piper is now living with Joseph Barbour in WV. Has just given him a very nice litter.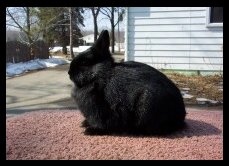 Lindenwoods Midnight. This litte doe went BOG first time out from the Jr. class for Megan. She is now producing beautiful babies for Bert.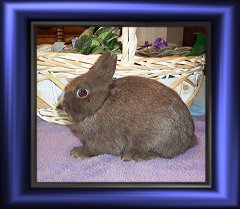 Lindenwoods Phoebe.
Fantastic North Starr X Fantastic Classic Charm.
My Netherland Dwarfs are a new addition to the barn. I can honestly say that 95% of my stock are from my good friend Bertha Ainsworth of Fantastic rabbitry. Bert has been here for me during the good times and bad times for many years. She has helped me with every problem I have had. She is a great support for me. I couldn't have done any of this without her help. Thank you so much Bert!!! She had a wonderful showing at the ARBA Nationals this year. Her rabbits are fantastic!!
Netherland Dwarf Photo Album